Sneek & Surroundings
Watersportplace Sneek
In the compact city center is a lot of for experience. The city has with ancient monuments and cityscapes. It is recommended to visit the Watergate (1613).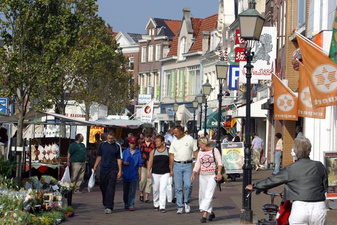 The town hall and the Grote Kerk (1498) should be given special attention. Beautiful sights including the Maritime Museum, the Railway Museum, the Joustra Widow, comfordable bars and terraces and a large number of good restaurants and events can be found in the city. Sneek offers various shopping in Friesland. In addition to all kinds of well-known national retail stores you will find many shops with selling clothes, shoes, home furnishings and accessories.
You can enjoy a day in Sneek in many ways. With a walk, a canal tour or by bike you can discover Sneek. For young and old, there is much to experience.
Water Gate
The most famous building in Sneek is the Watergate of 1613.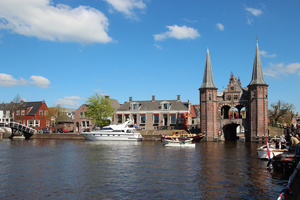 A world-famous monument that brings Sneek pride expressed. Scince the military function of the town gates disappeared in the 16th century, it got a representative character. The Watergate became a symbol of the wealth of the city.
Canal Ring Sneek
Over the years, many old places have been modernized, but the old stones are cared. The canals of Sneek are completely intact. In Grootzand and Kleinzand you can see how the small freighter go from Houkesloot and Geeuw throught the watergate in the middle of Sneek, to be discharged or charged. High townhouses with monumental facades and warehouses can be admired. Numerous small roads around the center giving the city a profound character.
Find more information about Sneek? Visit the website from Sneekermeer.