Water sports
Sloop rental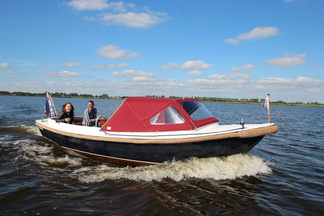 Do you want to cross the Frisian lakes? We have several boats for rent.
You can experience Friesland on the water. Our location is very central in the Lake District, so you can make beautiful trips starting in our marina. A license is not required. You will receive a proper briefing, a navigation map and a plan for beautiful routes you can take. Renting a boat for a few hours can be done quickly.
S​ail
We also rent Polyvalken. With Polyvalk you can sail a whole day on the Sneekermeer and enjoy, or make another nice trip. It is a short distance from the Broresloot to the Sneekermeer. Enjoy the tranquility and space.
You can also rent a traditional Skutsje. Ideal for groups of ten to twelve people.
Suppen (Dutch)
Sup = Stand up paddle, stand on a surfboard with a paddle
You get an extra-long paddles with which you can stand up straight. Instead of a surfboard, there are special Sup boards which have been developed for it. This Sup boards have a wide surface and are very stable. The Suppen is easy to learn and not very difficult, so it makes especially fun. You get a quick guide on how it works.
Please contact us for more information or to make a reservation.